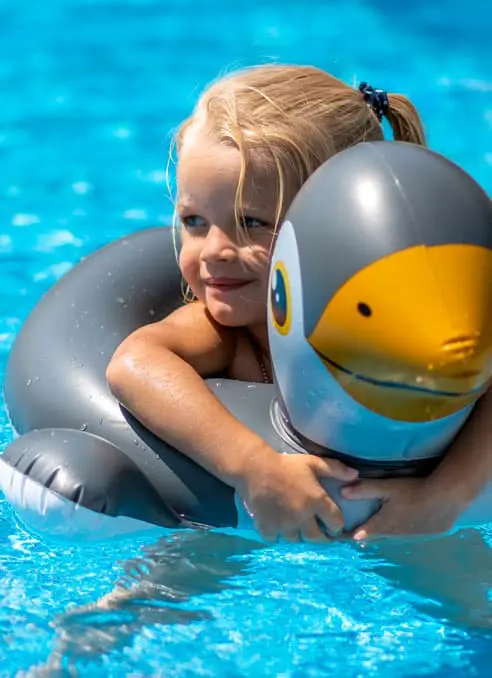 Campsite heated swimming pool Soulac-sur-Mer
As a 4 star campsite, we have a 28 degree heated swimming pool which will allow those reluctant to the Atlantic Ocean to cool off and swim in safety.
The heated pool is open from 10am to 7pm and is supervised by a lifeguard, BNSSA holder from 2pm to 7pm.
Mornings are therefore ideal for swimming in peace and quiet or for spending a quiet moment with your child. Before 10am or after 7pm, it's time for activities such as aquagym, aquabike or swimming lessons. For everyone's peace of mind, our heated pool has no slides.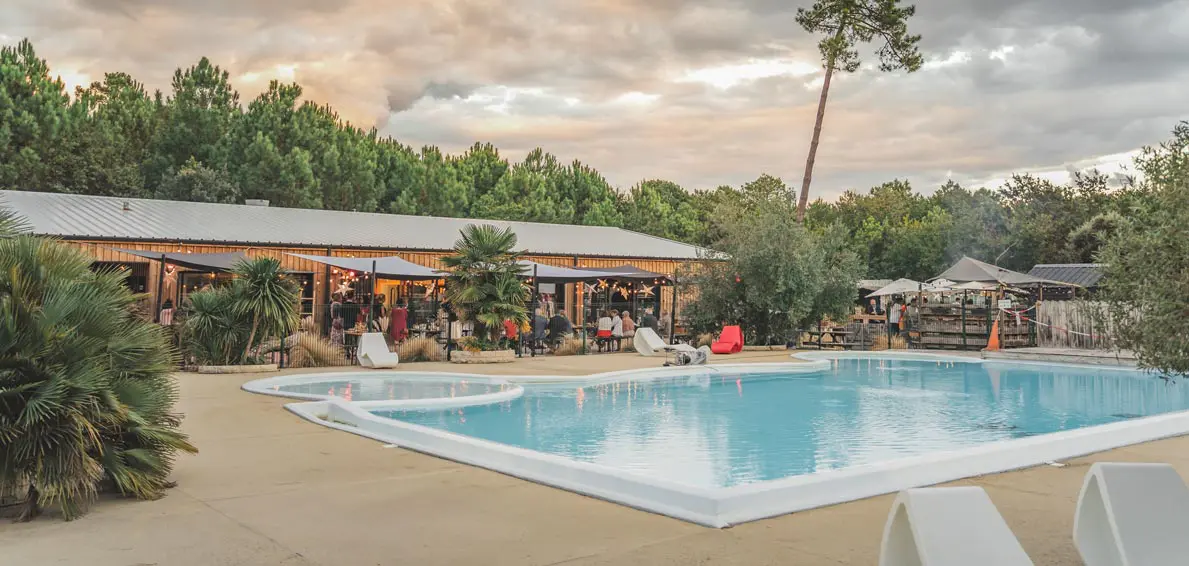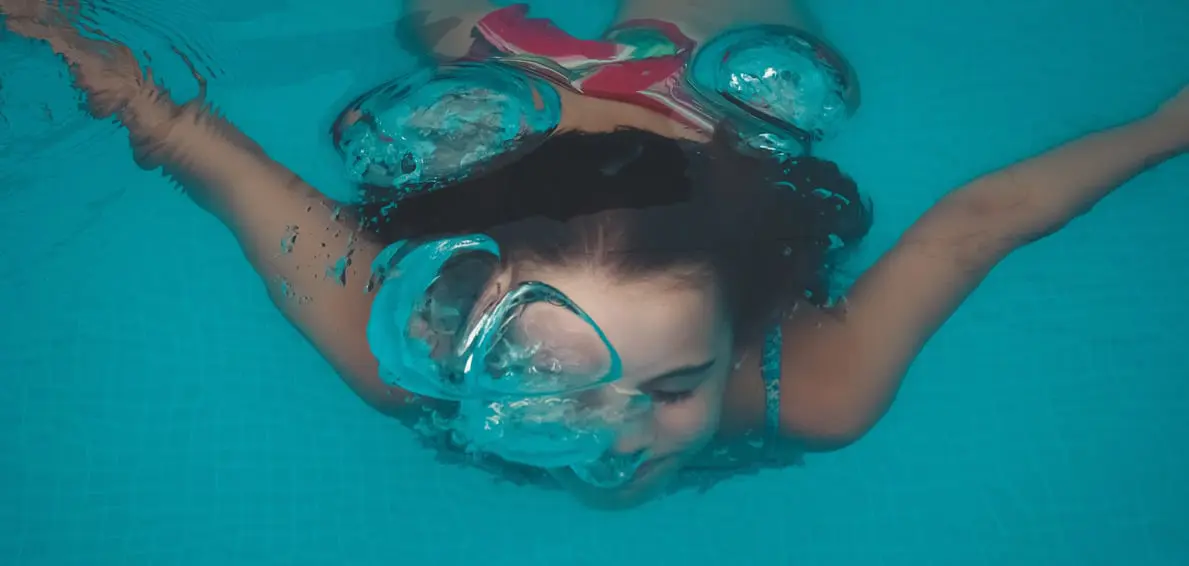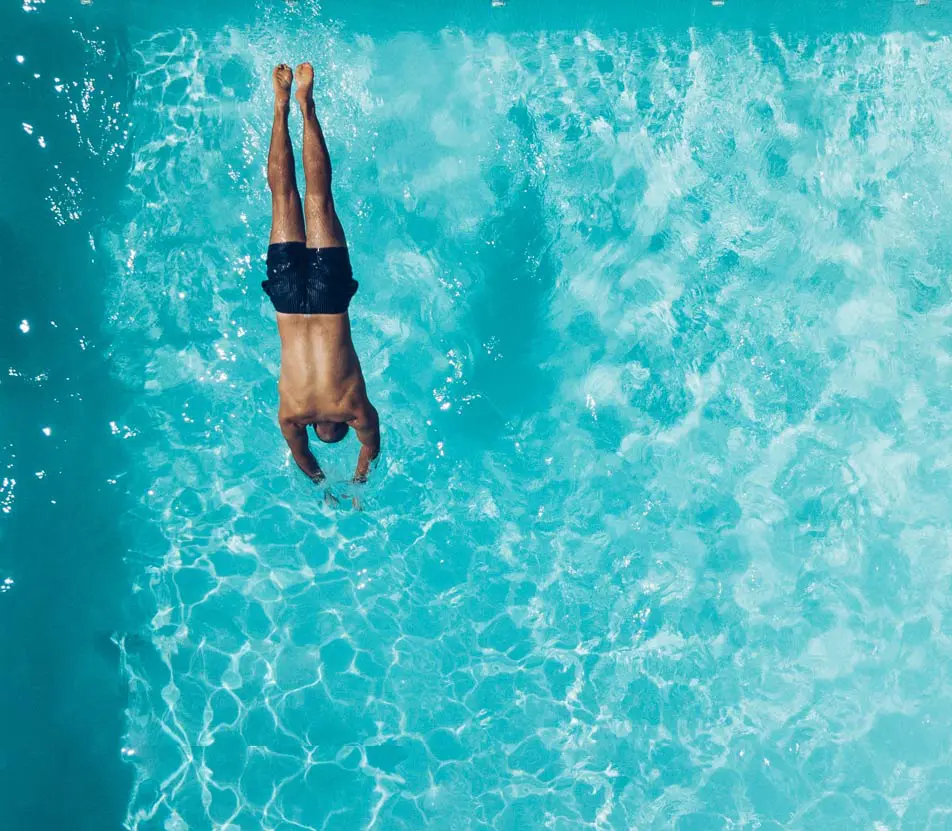 Swimming pool regulations in Gironde
As with any swimming pool, we have specific rules for this place. We are neither a municipal swimming pool nor a beach so for the respect of each and everyone, you will have to follow our charter. Of course, some points may seem obvious to you, but beware, it is not always natural for everyone, we live in a world of cultural mix and this is precisely what we like at the Paradis des Pins Soulac campsite:
Point 1: We leave our shoes before entering the footbath, there is a shoe box provided for this purpose and we take a shower to avoid spreading our sweat to all the pool users.
Point 2: We don't plan to bring food or drink. We keep our site clean and imagine finding bits of cake around you when you swim or inadvertently swallowing one. Yuck!
Point 3: No smoking inside the pool, go outside and above all throw your cigarette butt in the ashtray provided at the pool entrance. We would like to remind you of the importance of environmental responsibility. Moreover, when we are in summer season, we insist on extinguishing our cigarette butts so as not to set them on fire, imagine the disaster that this could cause. Moreover, on the beach or anywhere in the Médoc, especially in the forest, we encourage you to have the same preventive and respectful behaviour, let's protect our nature. Equip yourself with a pocket ashtray if necessary.
Point 4: You don't jump in fully clothed after a sports session because you're too hot in the pool by doing a bomb! It makes you smile, but it's already happened to us…
Point 5: If our culture requires us to wear bathing attire, then we go to Reception to report this to avoid any misunderstanding.
Point 6: It is prohibited to run on the poolside or around the pool, especially for children, teens and adults too, we know you. We don't do bombs on our friends either. It's tempting, for sure, but we save it for the beach. Here we live in a community and we respect the others around us.
There, the lifeguard in charge of the pool or the management is authorized to remove you immediately from the pool area or to exclude you from the pool if he or she deems it necessary.
Point 7: To avoid point 6, we do not leave a child under 12 years old unsupervised in the pool, the presence of an adult with them is mandatory. We may prohibit access to the child if he/she comes alone.
Point 8: animals are prohibited.
The idea is to read the rules above, this is important for everyone to have a stress free time.
Download the pool rules
Our heated swimming pool in Soulac
The heated pool at the campsite Soulac-sur-Mer is located between our permaculture garden and the bar/restaurant, Espace créatif des Frères Nicoll's. You will be able to swim, relax and unwind between the cackling of our hens, the crowing of the rooster and the summer atmosphere, accompanied by the movement of the Nicoll's Brothers team. Our heated swimming pool without slides offers you a moment of relaxation at the water's edge.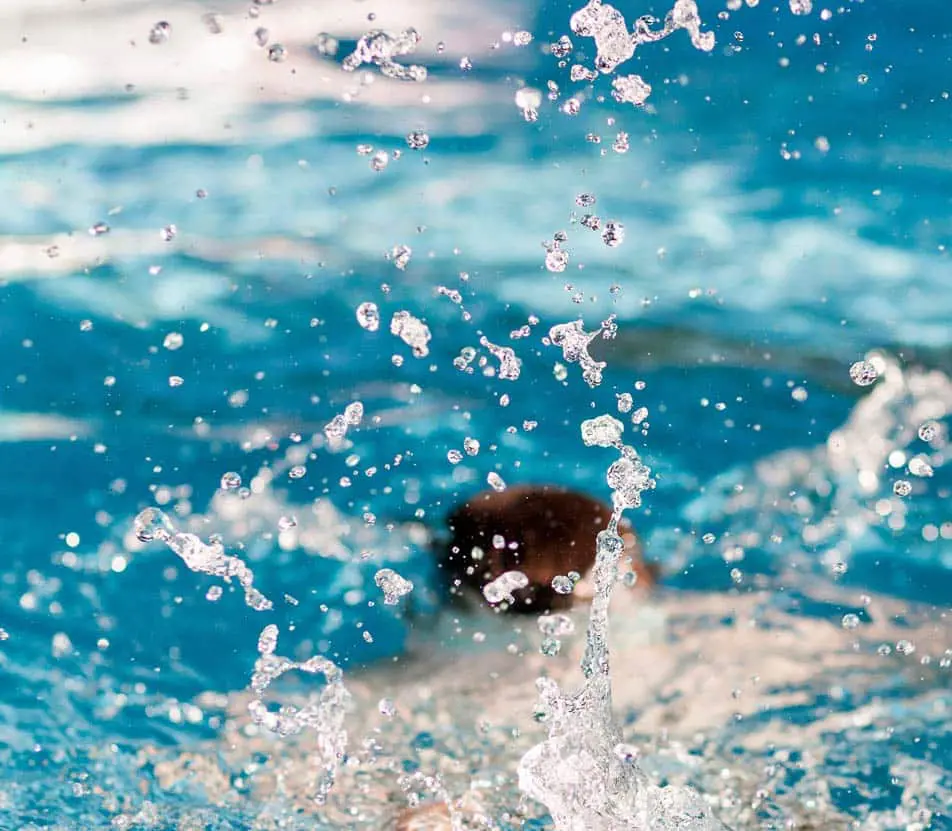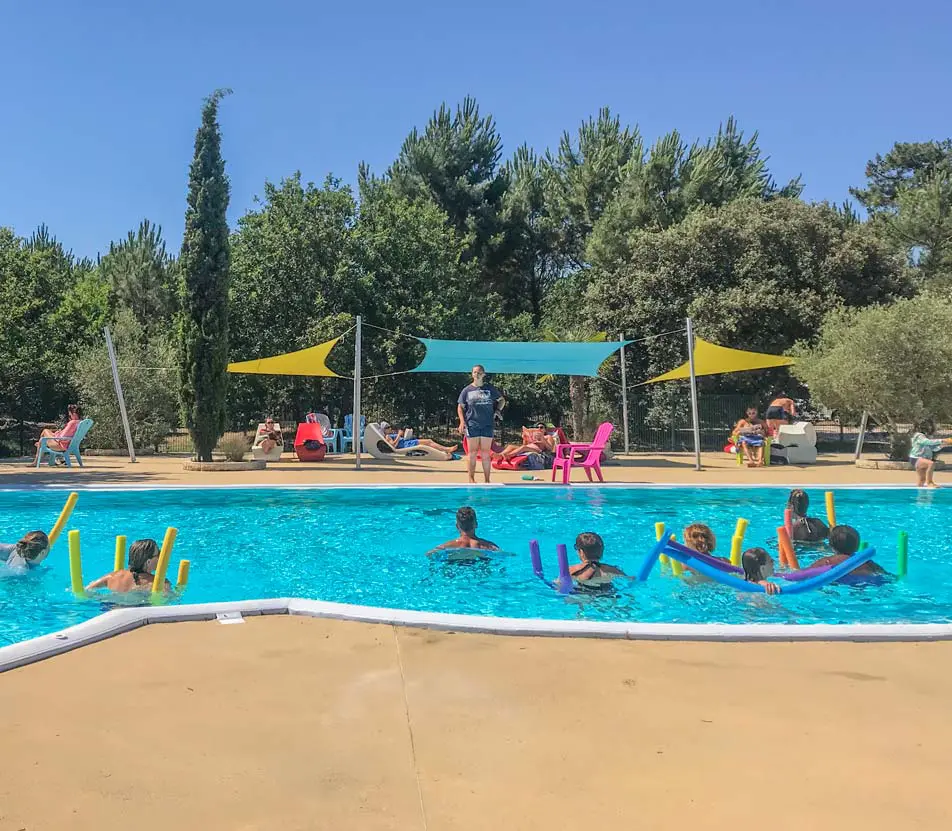 Swimming pool with paddling pool
An outdoor pool with wading pool for the comfort and safety of the whole family, a toddler and baby corner, which allows the little ones to watch the talent of the grown-ups.
Aquagym and aquabike at the campsite in the Médoc
You can't spend a holiday at the Paradis des Pins Soulac campsite without aquabike and aquagym classes in the heated pool. We keep the rhythm of the year or we discover these disciplines! Perfect for having fun, and working your muscles with very complete exercises for the body.
Aquabike

This year Robin will be your aquabike coach every Wednesday morning and Thursday evening during July and August.

Two sessions on Wednesdays: 9:30am to 10am and 10:15am to 10:45am.
One session on Thursday: 7pm to 7:30pm.

15 bikes are available per session. Make sure you book with Robin, your session in advance to avoid full classes.
Fee: 8 €/session.
Robin Prophète : 06 24 24 07 09.

Aquagym

Sessions can be booked with the animation team. The fee is included in the booking of your stay. Sessions on Monday and Thursday.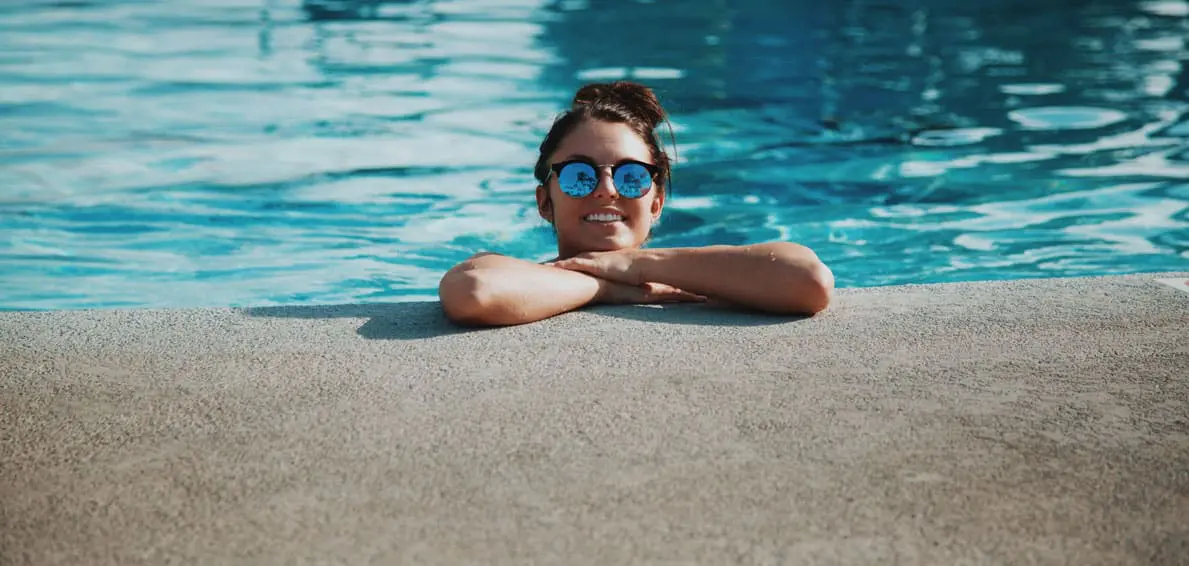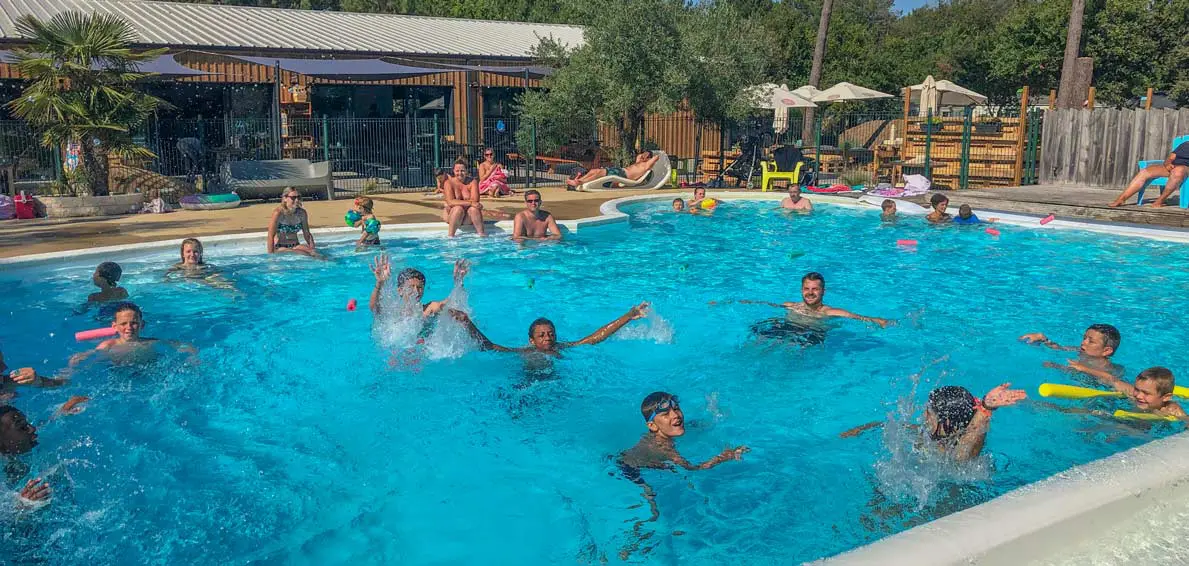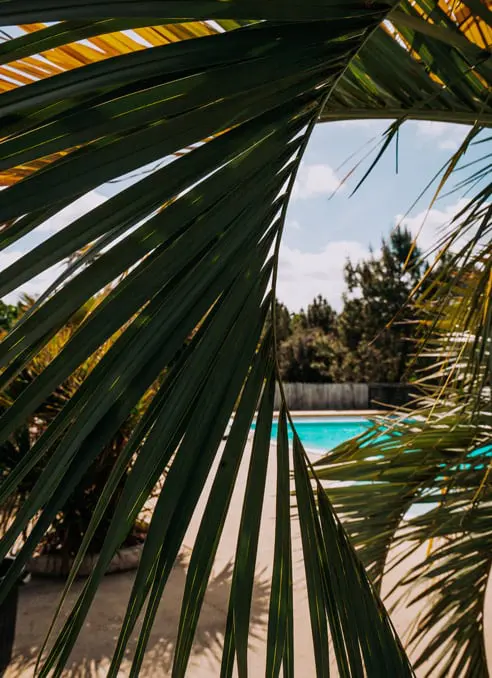 Water games
The water games in our heated swimming pool are organised by the animation team during the supervised pool hours. You can take part in water polo or in the various aquatic and fun games. It is the weekly surprise that will be broadcast to you by the animation team or the reception, a bit of spontaneity for the holidays in Soulac!
We let go, don't we? Isn't that the principle?
Swimming lessons
The swimming lessons will be given this year by Robin, your aquabike coach.
They take place on request outside the opening hours of the heated pool or sometimes between 12pm and 2pm.
You will need to contact him directly or meet him on these aquabike sessions.
This activity will allow your children to start or to improve in complete safety in a pleasant atmosphere.
Robin Prophète : 06 24 24 07 09
Sunbathing by the pool
There's nothing like a small deckchair with a book in the sun to completely relax by the pool without the slides. Here at the Pins Soulac campsite, we're protected from the wind, so bring sun cream for your sunbaths, we grill.
Discover our children's club and our activities at the campsite