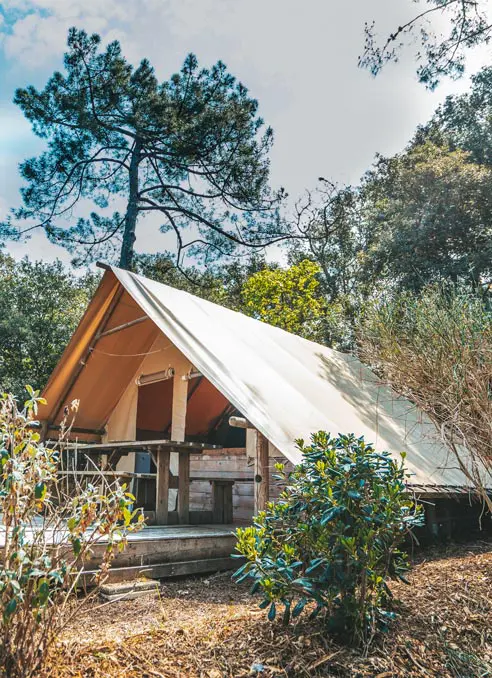 "Space" is the motto of Campsite des Pins!
At 1.8km from the plage de l'Amélie you will spend your holidays in the heart of nature under a forest of oak and pine trees. The tranquillity of our campsite will allow you to disconnect from your daily life.
Reception hours :
July and August from Monday to Friday from 9am to 8pm – Saturday and Sunday from 8am to 8pm.
April/May/June/September from 9am to 1pm and from 3pm to 7pm.
Number of pitches : 160 including 74 rentals.
Our unusual ecolodge accommodation: Lodge, Dunes, Cotton, Sweet, Cabane, Amazone… offer you a unique and natural stay. If you prefer a more traditional campsite, the Les Pins campsite has places for tents, caravans or motorhomes and mobil-homes "Comfort" and "Premium".
You will fill up on activities between the swimming pool, the beach, the discovery of the local heritage and gastronomy, wine tasting initiations and evening concerts. During your stay at camping Soulac you will be able to relax, do sports while enjoying moments of complicity with family, friends or couples.
Since 1 January 2021, we have joined the Camping Paradis group. The activities we offer throughout your stay are accessible from 0 to 99 years old.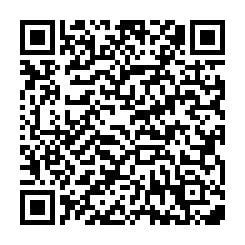 Download the programme Animations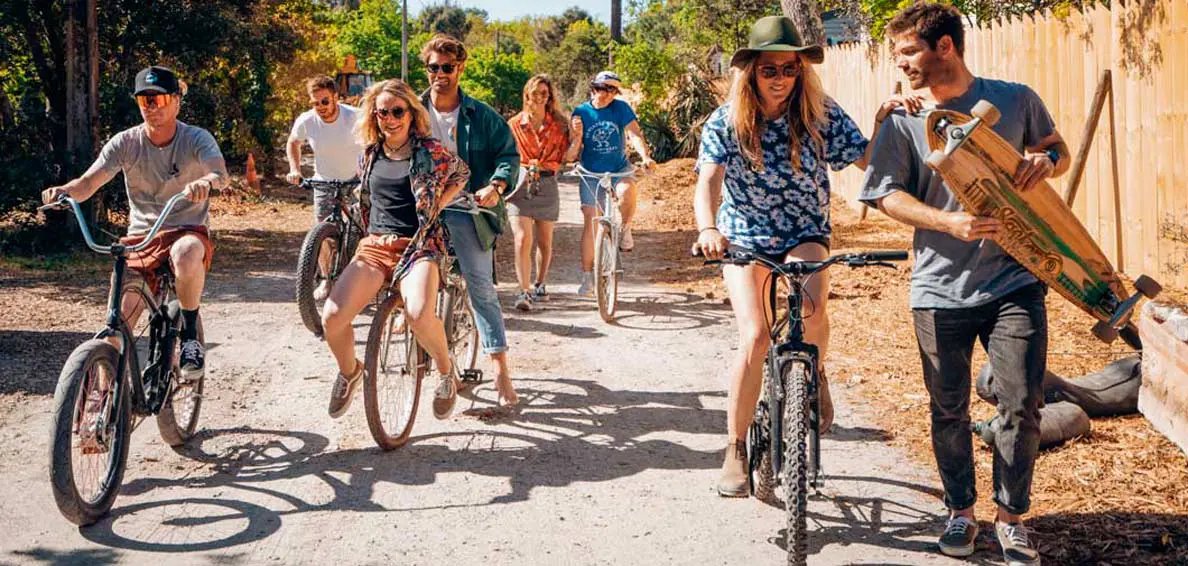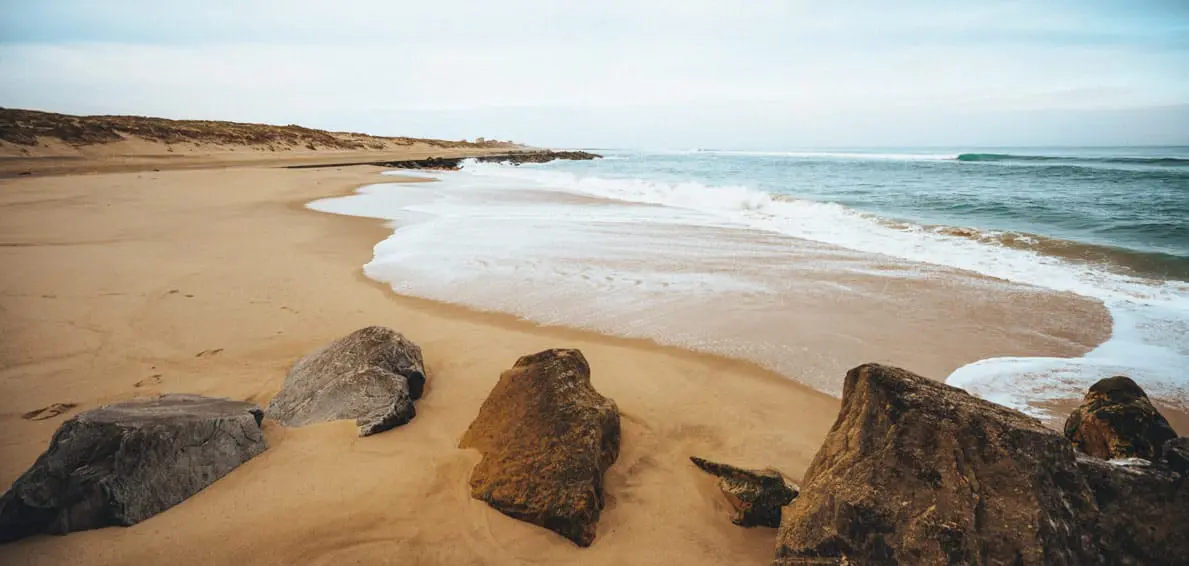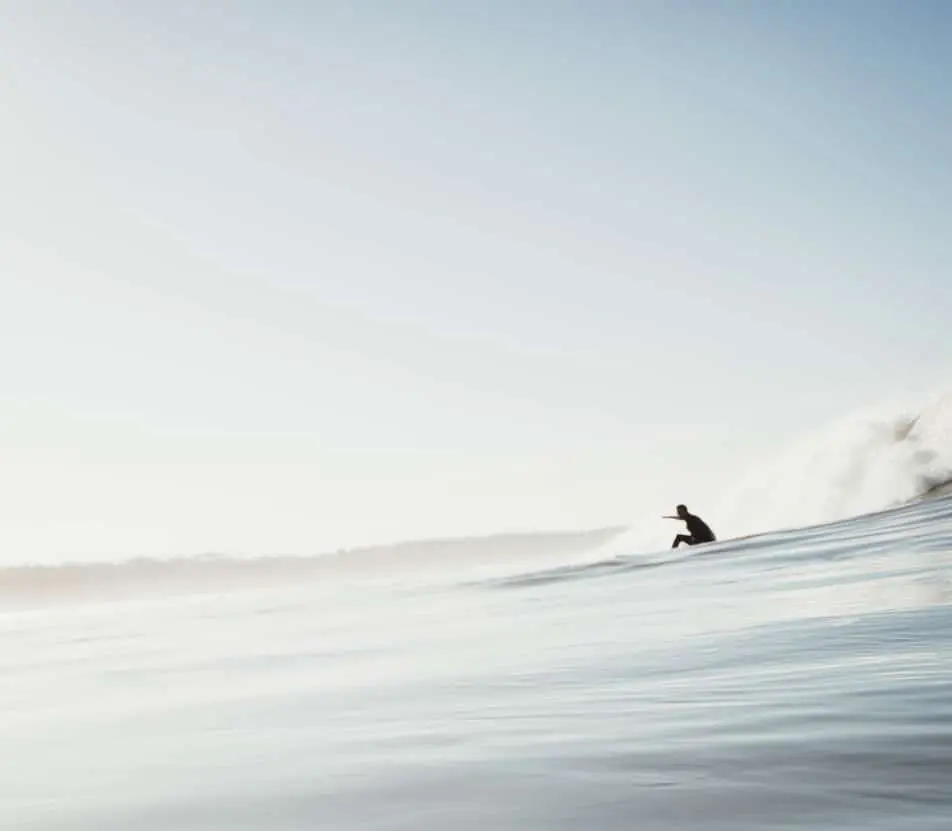 Our campsite is on a human scale, not too big, not too small
Welcome, friendliness, quality, cleanliness and comfort are for us essential for your stay in Soulac-sur-Mer.
Passionate about our region, we will share with you the must-see sites to visit. As our campsite is located near the ocean, you will find long stretches of beach punctuated by spots with breaking waves, seducing surfing lovers.
If nature can sometimes be wild, the Médoc reveals a multitude of surprises and treasures. Overflowing with natural beauties, almost wild and wonderfully well preserved, one never really finishes discovering this destination! Without necessarily having to go off the beaten track, let yourself be told about the Medoc flora and fauna or the region through its walks and its tours. Discover the Richard lighthouse, the Cordouan lighthouse, the citadel of Blaye, the islands of Patiras, the market of flavours, the circuit of Soulac villas.
Soulac is a seaside resort, where life is good. It is dotted with villas and bourgeois "Atlantic" style buildings built between 1890 and 1920. A real refuge for nature lovers. You can taste the oysters and Grands Crus of the Médoc, artisanal ice creams, gourmet pastries and many other specialities to be found at the daily market.
The advantages of campsite des Pins
Our site is planted with trees and flowers, in a privileged setting where nature is preserved.
+ the serenity of an entirely pedestrian campsite. There are no cars on our site. We unload our shopping with a trolley on wheels.
+ the space between pitches, we breathe.
+ the accessibility of the cycle paths connected to the Velodyssey.
+ the new Nicoll's Brothers space, is a creative space with a restaurant where concerts are held every Friday in July and August.
+ the grocery.
+ the heated pool.
Our values
Our values are strong: serenity, conviviality and eco-responsibility.
The DNA of our campsite is eco-responsible, our philosophy is guided by actions identifiable by our customers.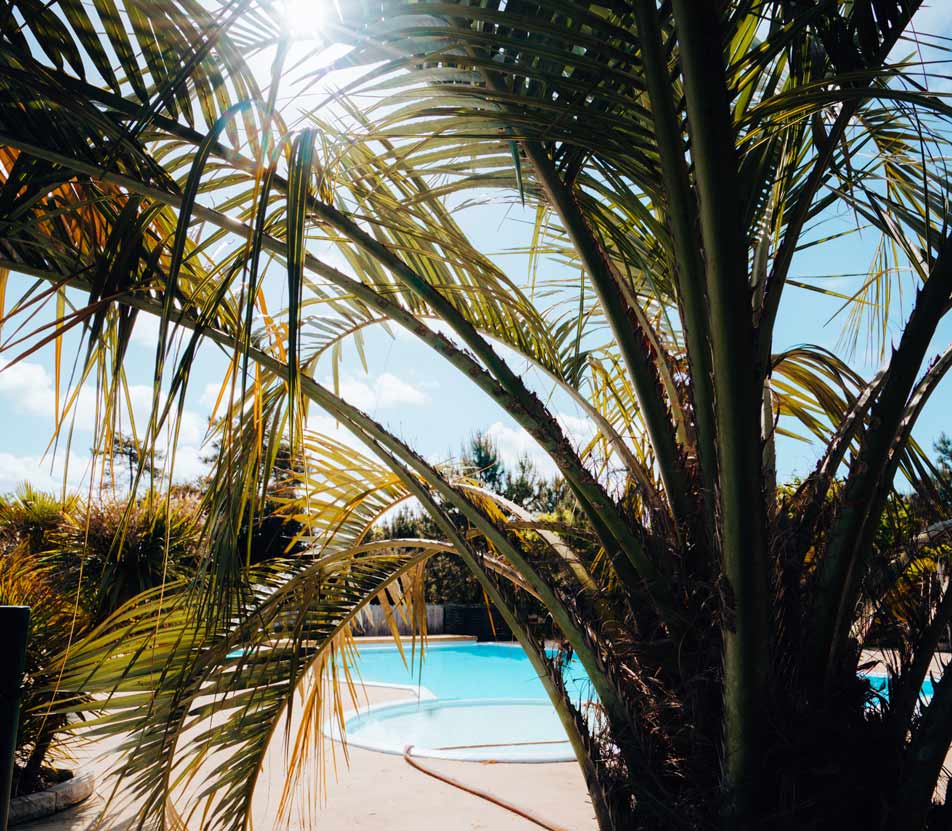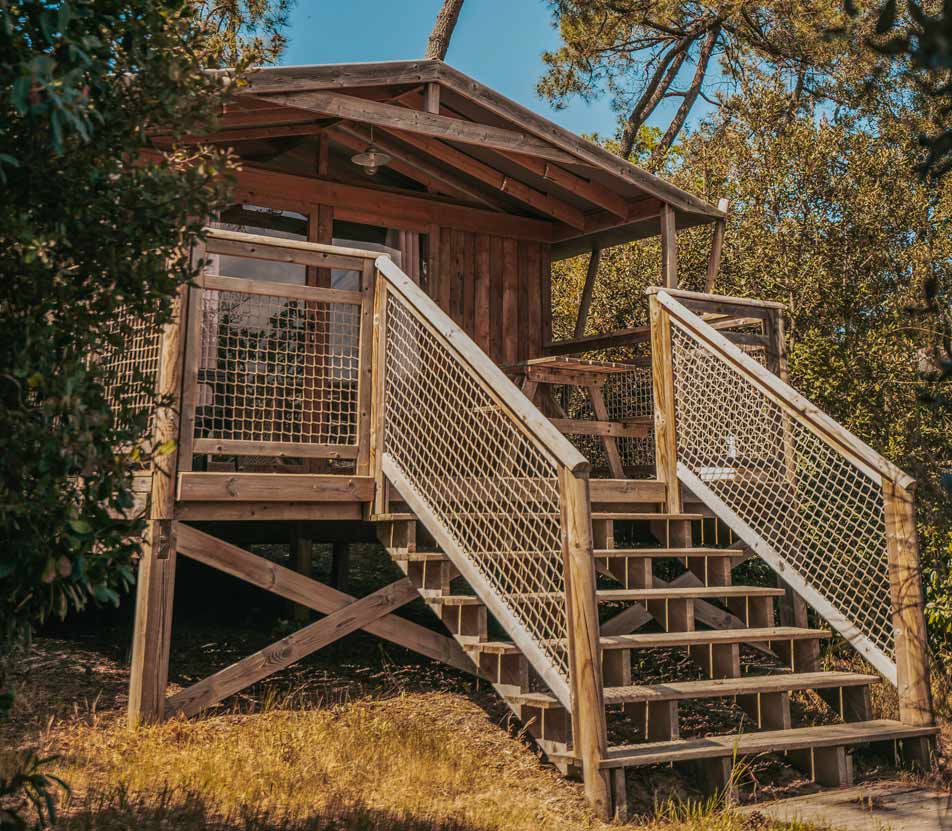 Ecolodges for rent
Our commitment is felt in the choice of materials used to design our rentals, with us it is wood that advocates eco sustainability!
A pedestrian campsite
For a few years now, you have been bringing your car into the campsite on arrival to unload your belongings and on departure to prepare your trip. Your car is not needed for the rest of your stay, parked in a guarded parking lot in front of our house.
To accompany your daily routine (shopping, sports luggage or beach) we have small trolleys on wheels available.
In the heart of nature
The vegetation predominates on the site, the landscape is worked to be in harmony with our rentals and to preserve your intimacy.
Use of natural products for cleaning teams
We have been making our own products for about ten years, which are natural or certified organic. Chemicals have no place on our plants or in our rentals.
(With the exception of the COVID-19 context for which we use virucide)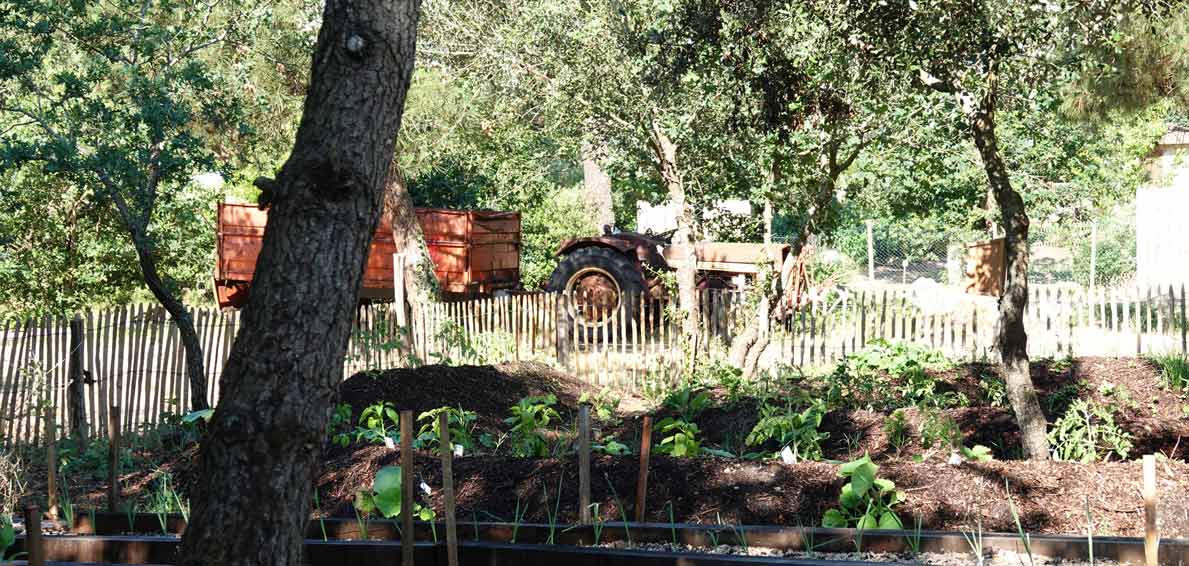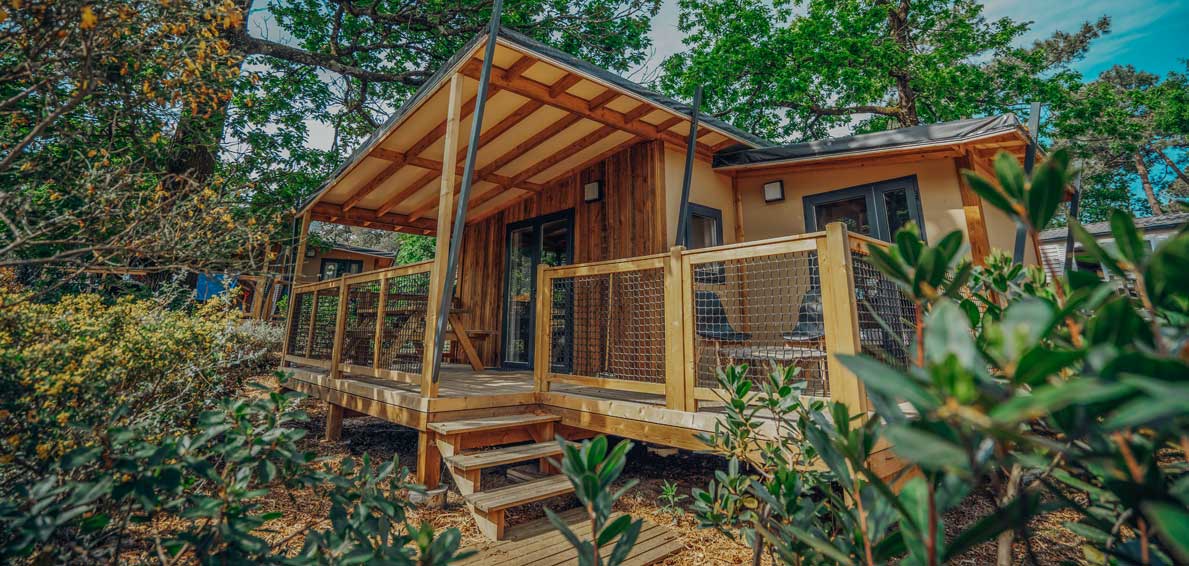 Organic products on sale at the grocery shop
We favour local and Bio, we work with small producers, the grocery shop is an opportunity to highlight healthy products.
A permaculture garden and chickens
Our garden is private, all our vegetables harvested during the season are used in our restaurant kitchen. Our chickens also provide us with the eggs that you will find on your plates!
Infrastructure equipped with solar panels
Our sanitary facilities are equipped with solar panels. Production of hot water for the sanitary facilities and the on-site rentals.
Waste management
Recycling is the watchword with us, composting and mulching. We do not pollute, our site is our essence and our framework.
Les Frères Nicoll's: short circuit / organic network
Check out our Nicoll Brothers website : short circuit/organic network.
Our team: a family history
Brothers Nicolas and Ollivier Maridat have owned the Paradis des Pins Soulac**** campsite since 2007. But the outdoor hotel business is well and truly in the family DNA since this campsite previously belonged to their parents, Maryse and Bernard, who bought it as a fallow land in 1986.
As children, Nicolas and Ollivier lived between Angoulême and Soulac at the same pace as their parents and the campsite, already lending them a hand. Coming from the quality branch in the oenological viticulture field for Nicolas and the sign management for Ollivier, they decided to take over the family business in parallel with their respective jobs.
The return to the roots was quickly imposed for Nicolas with the desire to work in harmony with nature. His brother Ollivier followed him in the adventure and, together, they took over the family campsite where they have been working for a few years on the harmonisation and innovation of the site with their respective wives. Juliana, Nicolas' wife is in communication, the web and the event on her own and Sandrine, Ollivier's wife is a visual artist, sculptor, and painting restorer, self-employed Art expert.
Our team : Les Frères Nicoll's
The 4 of them thus decided to create a common project on the site by combining their skills, the creative space "Les Frères Nicoll's".
At the same time bar/restaurant, coworking, creative (Art exhibitions & concerts), privatizations & Concept Store, this sharing place is a real place of conviviality in the heart of nature.
This place with beach culture connotation brings a real added value to make the Paradis des Pins Soulac**** campsite a campsite connected to the nature and modern.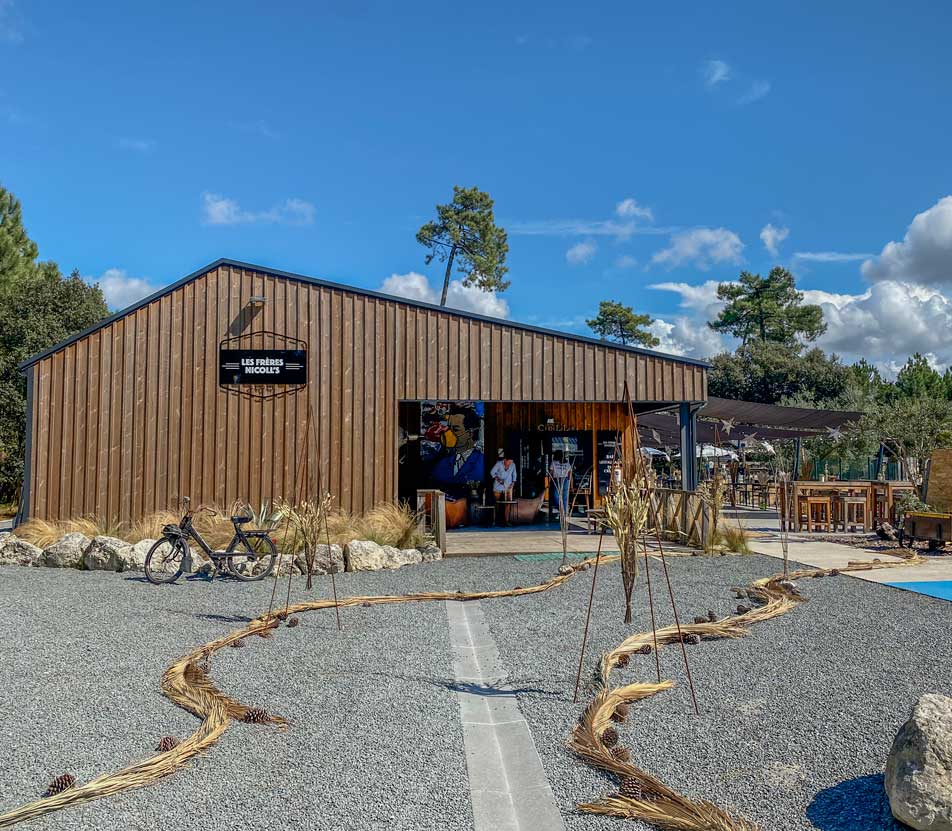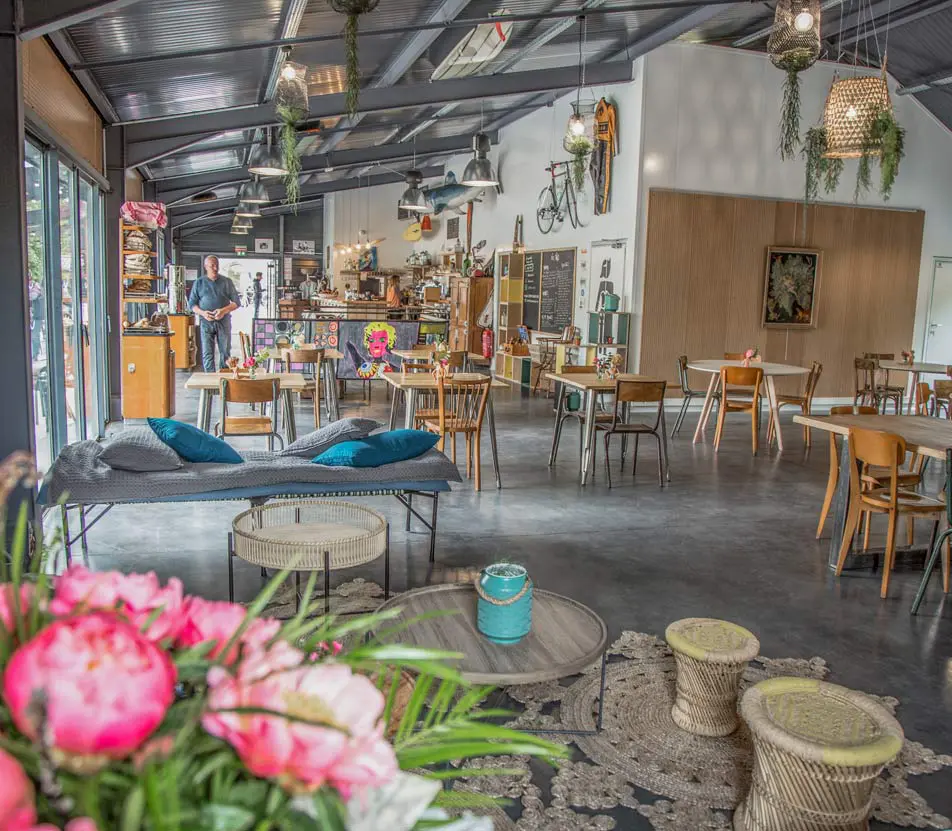 Our team : authentic and friendly
This site is a family affair as it is very involved by all its members as you could understand, especially with Nicolas and Ollivier's mother, Maryse, still active in the business, but also with the older of the grandchildren who come to help when needed.
The team is essential at the Paradis des Pins Soulac campsite, there are three employees all year round with key positions : Christine, the reception manager, accompanied by Maryse ; Ti, the housekeeper manager, and Boris, the technical manager. In addition, depending on the needs of the historical employees who come to help at important moments, and finally in the summer, about thirty employees work together between the campsite and the Nicoll's Brothers. The team is also based on the human and the authenticity, the company is very careful about recruitment.
Here, when we smile, it's real and it comes from the heart, we don't know how to pretend.
Discover our swimming pool and our activities at the campsite